Greetings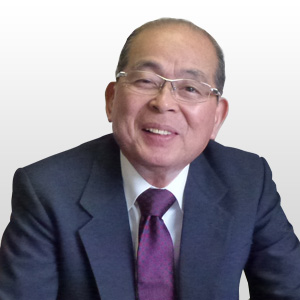 Chairman of the Fukui Optical Association
Mr. Ichiro Kuroda
Welcome to the Sabae Megane Messe
Fukui Prefectures' eyewear manufacturing industry began in 1905 when Masunaga Gozaemon invited glasses craftsmen from Osaka to Fukui City's Asouzu Village in Shouno. Since then, we have celebrated over 110 years of eyewear manufacturing history, and boast world class preeminent technology and development capabilities, and a fine workforce that can claim a market share of over 95% of the Japanese glasses market. This is a gift, thanks to the foresight and efforts of our pioneering predecessors.
In recent years, however, the flooding of the market of cheap glasses frames from countries such as China has made things difficult for the region. Through remaining an OEM, Original Equipment Manufacturer, Fukui Prefecture's glasses manufacturing industry has continued to expand. However, the direct sales of our products has possibly reached it's global zenith, as we see manufacturing reduced to just 40% of its peak production output.
However, thanks to the Cool Japan movement of recent years, Japanese products are again being viewed in a positive light, and a recovery in the sales of glasses frames made in Sabae, Fukui Prefecture, are showing signs of recovery. Last year, the Cool Japan council chose Sabae glasses frames as one of the items in Japan's unique culture, entertainment and products. In addition, the Japan External Trade Organization chose Sabae glasses as part of a pilot program certifying regional contribution. In recognition of these honors, and in celebration of uniting locally to meet high world expectations and demand, the Sabae Megane Messe is another step toward a brighter future. I hope you will take an interest in the origins of our branding, technological development, production and innovation, and hope you will enjoy the Megane Festival too.
The technology cultivated locally over the last 110 years is now being applied to new technologies, such as medical equipment and electronic components. This regions' culmination of production history and technology has the potential to usher in a new era of safe, secure and high quality eyewear.
Fukui Prefectures' local eyewear industry looks forward to the challenges of spreading its wings, reaching across the world and meeting the challenges of continued growth for retailers and purchasers across the country. We hope you enjoy both the Sabae Megane Messe and Megane Festival events.